Scholarships of Kharkiv RSA
Scholarships of Kharkiv RSA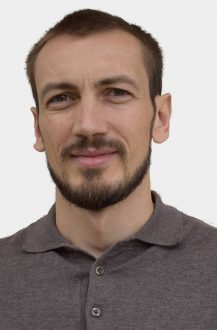 Prof. Doc. Sci. (Tech.), Assoc. Prof.
Prokhorchenko Andrii
Candidate of Technical Sciences since 2008. He defended his dissertation in the specialized scientific council D 64.820.04 at the Ukrainian State Academy of Railway Transport, specialty 05.22.20 – operation and repair of vehicles. Doctor of Technical Sciences, specialty 05.22.01 – transport systems since 2016. He was awarded the academic title of associate professor. Full member of the Transport Academy of Ukraine.
Direction of scientific activity: formation of methods of management of railway infrastructure capacity in the conditions of non-discriminatory access. Research of survivability of the system of organization of train flows on the basis of the theory of percolation. Macroanalysis of the organization of transport systems, in particular railway on the basis of methods of analysis of complex networks. Research of problems of reforming public railway transport.
Within the framework of scientific and educational-methodical work more than 70 publications were published and prepared for publication, including 10 scientific articles indexed in the scientific-metric database Scopus, 7 educational-methodical developments, 1 textbook "Passenger transportation (railway transport)" with stamped by the Ministry of Education and Science of Ukraine and 2 patents.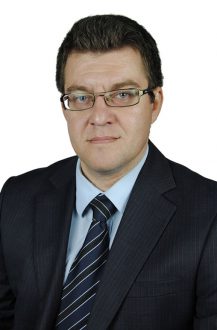 Vice-Rector for Science, D.Sc. (Tech), Professor
Glib Vatulia
Doctor of Engineering Science since 2016. He defended his doctoral thesis at the specialized scientific board D 64.820.02 in specialty 05.23.01 – Building Constructions, Buildings and Structures. The subject of the thesis was "Structural analysis and design of composite and steel and concrete constructions". His research advisor was D.Sc. (Tech), Professor E. Chykhladze.
Scope of scientific interests: optimal design of steel-concrete and composite structures, calculations under force and thermal impact.
Author of 130 scientific publications and teaching materials. Obtained 10 patents. The research advisor of 4 PhDs.